At Swanson Roofing, we have been proudly serving customers in Illinois for over 20 years. As experienced and licensed roofing contractors, we specialize in several types of residential and commercial roofing systems, including, replacements, repairs, and installations. No roofing job is too big or too small for our skilled team.

Our Commitment to 100% Customer Satisfaction
Our top priority for every roofing project we complete is always 100% customer satisfaction. We are dedicated to excellent craftsmanship and provide all of our customers with a workmanship warranty. Swanson Roofing will not only meet your expectations – we'll exceed them.
From the initial inspection to final cleanup, we closely oversee the entire roofing process and keep you informed every step of the way. Our expert roofers prioritize safety and professionalism on every job site.
The safety of your home and family is our top concern. You can trust that we fully background check and license all our roofers. We are a fully insured company with workers' comp for your added peace of mind. Our team follows the highest standards and safety protocols on every roofing project.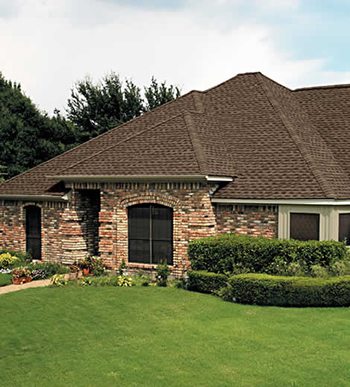 Contact The Roofing Dog Today for Your Free Roof Inspection and Estimate
Please don't wait until it's too late! At the first sign of damage, leaking, or age-related wear and tear, contact Swanson Roofing. We want to help extend the life of your roof with timely repairs and keep you protected. Water damage from roof leaks can be extremely costly if left unaddressed.
As a locally owned and operated business, we care deeply about serving our neighbors with honesty, integrity, and quality workmanship. Check out our testimonials to hear what our satisfied customers have to say.
Call (217) 355-7663 or fill out the form below to schedule a free roofing inspection and estimate. With The Roofing Dog, you'll get a beautiful, durable new roof installed by Illinois's most trusted and experienced roofing crew.