Gutter Installation
Residential & Commercial
The Roofing Dog uses high quality gutters to protect your home from the elements and route water away from your home or business. Gutter installation helps prevent rot to soffits and fascia, as well as your foundation and landscaping.

Gutters Protect Your Home
Gutters play an important role in keeping both your roof and building protected from water. It is necessary to channel water away from the roof to prevent damage. We only install seamless gutters that are designed and assembled on-site to custom fit your roof. Our team will bring a special roll forming machine to use on site.
Choose from 5″ or 6″ gutter size and an array of colors. We can help you make the right choice for your home or business!
Contact Us About Gutters
Gutter Installation Includes:
A Seamless Design: No Leaks
We create each gutter section to the exact length needed
Gutters are installed behind the drip edge allowing water to flow directly into the gutter and not behind it
All Components Included: No hidden costs
We include all parts required to install a complete gutter system
We use pre-mounted hidden hangers to anchor your seamless gutters

Holds more weight
Won't back out
Smooth finish

With hidden hangers and no seams you get a clean look
All corners of your gutter are custom-made onsite to fit perfectly
We use anti-corrosive screws, hangers and gutters that will not rust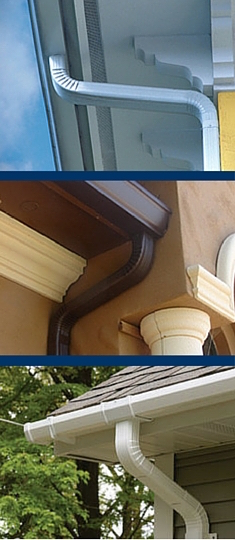 ---
Gutter Guard Installation
Rhino Gutter Guard
Keep Leaves & Debris Out of Your Gutters!
We offer the Rhino Gutter Guard to help prevent debris such as leaves from clogging up your gutters. We are an authorized dealer and installer.
We would be happy to tell you more about Rhino Gutter Guards or you can learn more from RHINO by visiting their site.
Contact Us About Gutters