A high-performance roof takes more than just shingles. We want to help you understand how a complete metal roofing system works together to protect your home. Are you looking to permanently replace your roof for the last time in your lifetime? Are you interested in a beautiful and distinct alternative to typical shingle roofs? Are you interested in a product that is both environmentally friendly and can reduce your energy bills? Then a metal roof may be the solution for you!
Contact Swanson Roofing Today!
Metal Roof Questions
Do you have questions about metal roofing? We would love to answer them! For our customer convenience, we have compiled our most commonly asked questions about metal roofs and have provided the answers.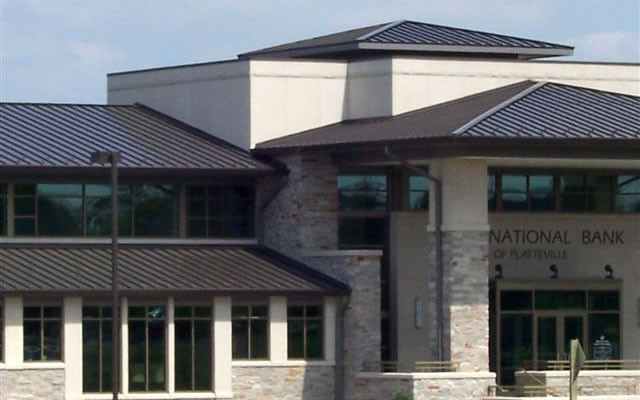 Metal Roof Gallery
Check out our Gallery of Metal Roofing Projects! See parts of the roofing process for yourself and visualize how a beautiful metal roof would look on your home. You can also explore the menu below for more information.
---
Advantages of Quality Metal Roofing
Lower-Life Cycle cost:

Standard asphalt shingles have a life span of 20-30 years.
Metal roofs have a life of 40-60 years or more.
Over a 60-year period, asphalt shingles could cost 3 times as much.
Energy Efficient:

Metal roofing reflects heat to effectively reduce cooling loads in the summer
Savings up to 40% on cooling costs
Tax credits available in some areas.
Reduced Homeowners Insurance rates (check with your insurance agent.)
Environmentally Friendly:

100% recyclable
Made with a minimum of 25% recycled materials
Unmatched Durability:

Impervious to termites, raccoons, squirrels and other pests
Resists fire and helps protect structures from fire damage.
Metal outperforms other roofing products when exposed to high winds.
Won't deteriorate under UV rays
Can withstand harsh environments
Class 4 Impact Rating
Trends in Metal Roofing:
Architects specifying metal on increasing number of projects
Building and homeowners are choosing metal

Asphalt shingles are still the low-cost choice, but the gap is closing on price
Revival of interest in environmentally friendly products like metal
Wood—not durable and limited fire resistance compared to metal
Slate and clay tile—too heavy and require structural reinforcement
Metal roofing offers options for a variety of applications